Given A Choice, Passengers Vote For Electric And Against Diesel Buses
Only one city is known to have ever actually asked its passengers their modal choice preference. This was San Francisco in the USA. Their passenger survey found that whilst the streetcars (trams) are the overwhelming 1st choice - even for routes where they are not a viable proposition - the electric trolleycoaches* are considerably more popular than the motorbuses, which are actively disliked, being rated as noisy and smelly. Indeed when roadworks caused temporary motorbus substitution of some electric bus services (with service frequencies and journey times remaining unchanged) there was an 11.33% downturn in passenger patronage that can only be explained by passengers making a pro-active choice to avoid the motorbuses.
*In North America many people refer to what we call a trolleybus as a trolleycoach.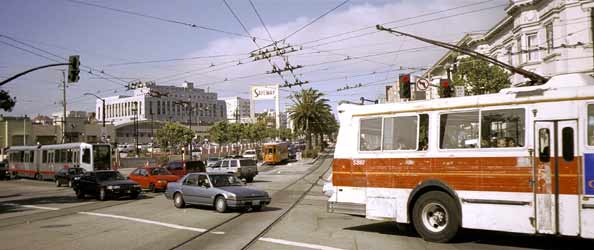 San Francisco, USA - passengers like their electric street transports (modern streetcars, historic streetcars and trolleycoaches) - and given a choice pro-actively avoid motorbuses, which they rate as being noisy and smelly.
Along with reduced air pollution another advantage of the electrical power supply infrastructure is that it would act as a continuous advertisement for the system and help instill confidence that the transport will be here today - and tomorrow(!), thereby encouraging businesses to make investments in the served corridors.
Sparks Effect Attracts British Passengers
Here in the UK experience gained from railway electrification has shown that the sparks effect does attract more patronage, even when (as in Yorkshire) hostile Government policies meant that the passengers had to use 30+ year-old hand me down trains. Based on this plus the experience in America, Austria and Holland quoted above it is reasonable to expect increases in passenger numbers on any British diesel bus routes which are converted to electric traction.
The reasons why passengers prefer electric transports include that their better overall performance, less vibration (none whilst idling!) and lack of engine smells results in a faster, more comfortable, smoother and hence more attractive journey experience.
Cost-Effective For Bus Operators!
Being cheaper to operate and having a longer vehicle life means that for high-frequency, high-capacity services the whole-life costs favour trolleybuses over diesels. Other advantages include:
Fewer moving parts and the 'slide out / slot in' modularity of the electric traction packages which makes for simpler and cheaper maintenance (compared to diesels),
Better overall performance (faster journeys) reduces the fleet size & the number of trolleybus drivers required to operate the route - producing a notable bottom line improvement - whilst less vibration results a longer vehicle life,
Lower and more predictable operating costs - compared to the 'volatile' price and availability of imported fossil and other liquid fuels - even more so when exchange rate issues are taken into account,
Cost benefits extend to not having to store fuel and provide for nightly filling of fuel tanks,
No idling motor energy losses. (ie: when calling at bus stops or stopped at traffic signals),
Potentially Financially Beneficial for NHS, Treasury and UK Taxpayers!
Admittedly there is a challenge in that HM Treasury and most of our City-quoted transport groups are only interested in finances which involve the lowest headline costs in the shortest possible term and highest immediate profits, rather than what works out to be the most cost effective over 15+ years. This needs to change!
London Buses Ltd in its 2001 publication "Cleaner Air for London - London Buses leads the Way" estimated that the cost of (human) health care which results from diesel bus air pollution equates to an equivalent of 13 pence (approximately €0.20 [20 Euro cents]) per kilometre. Meanwhile, a report prepared at the Roma Tre university in Rome, Italy, suggested the cost as being €1.20 per km. As most readers will instantly note, the Italian figure is significantly larger! Using this figure helped justify the investment in a new "filobus" (the Italian word for trolleybus) service along a severely air polluted transport corridor in Rome. In short, it suggested that installing the electric street transports would result in significant financial benefits (through reduced health care costs) to the Italian NHS - and by extension to the Italian Treasury and to Italian tax-payers.
The clear implication here is that investment funds spent here in the UK on the electric street transports will save our NHS money... year after year. Furthermore, if it means that fewer family breadwinners become unwell then it will result in people who would have needed social security benefits remaining in employment as tax payers. Fewer incidences of ill-health also result in many emotional and familial benefits which cannot be counted financially.
Sourcing The Energy
The electricity to power our electric street transports has to come from somewhere and since humankind does not (yet) know how to cleanly and safely extract it from the Ether so it is frequently sourced at coal, natural gas or nuclear power stations or from renewables - solar, wind, wave, hydro, geothermal, etc. The European canals which in the first half the 19th century used overhead wire electrification for electrically powered barges sourced their energy from sluices / turbines at the locks.
At one time wind generation was believed to represent the best of the renewable options for us in the UK, however whilst it probably is viable for low-power domestic micro-generation, real-world commercial experience has shown that triple-bladed wind turbines rarely meet the generating capacity expectations that their promoters promised. It is very likely that someone, somewhere, has devised a commercial wind power generation system which actually works far better than the three-bladed wind turbines upon which so many people (mis-)place their faith.
Just because the UK is facing an energy shortage is not the reason to avoid replacing buses that emit much harmful fossil-duel derived air pollution into our urban environment (ie: the streets in which we live and breathe) with clean electric buses and trams that do not emit any tailpipe pollution at all. Of course it would have been better if the British electric generation and supply industry had benefited from proper long-term planning so that the energy shortage had not arisen. It is indeed total insanity that existing coal fuelled electric generating facilities are being withdrawn without first ensuring that there will still be sufficient generating capacity - whilst it is recognised that coal is a dirty fuel the fact remains that it is still far easier and more effective to scrub waste gasses from the comparative few coal power station chimneys than the many thousands of vehicle tail pipes.
Many people see much potential in low-carbon energies such as anaerobic digestion (AD) biogas and bio-methane as sources of energy for use at power stations - in every case even if there is some chimney waste it will still be significantly less damaging to our health than diesel fumes in our streets, lungs, bloodstream, brain, etc.
Even When The Electricity Is Sourced From Fossil Fuel
There Is Still A Reduction In Global Air Pollution!
Critics often allege that by sourcing electricity from fossil fuels all that is really happening is that the pollution is being shifted up the energy chain to the power station. However, following extensive research in the University of California it has been found that even with low grade coal that produces a lot of carbon dioxide (as is used in Germany) electric traction offers an almost complete elimination of carbon monoxide and hydrocarbons, resulting in a significant global air quality benefit. Of course if the fuel used is high grade coal, natural gas, biogas (or another so called 'cleaner' fossil fuel) the benefits are even more admirable.
Experience in Sweden has shown that when a type of coal-burning power station known as 'pressurised fluidised-bed' is used then the emission of sulphur oxides and nitrogen oxides are also considerably reduced; furthermore, when these facilities are linked in with combined heat and power facilities (ie: provides both electricity and hot water which can be made available to industrial and domestic consumers alike) then they are about 40% more efficient than their traditional large coal burning equivalents (ie: 75% efficient opposed to 35% efficient) and are so clean that they can be located within cities.
As a contrast at best diesel engines are only 40% efficient and if you include part loads, idling (at bus stops / red traffic signals) etc., then this reduces to below 30%. Plus all the pollution is released in the street environment...
In January 2015 London's Mayor announced plans to re-commission the 1906 Greenwich Power Station which had previously supplied electricity for London's electric trams and underground trains. The future plans are to burn low carbon natural gas and also provide heat for local homes and businesses. This facility could also be used to power future tram and trolleybus networks! It should also be remembered that with trams and trolleybuses the electric motors only consume energy when accelerating - and not whilst the vehicle is stationary. When slowing they actually produce electricity which can either be recycled into capacitors (for re-use when accelerating) or returned to the overhead wires for other nearby vehicles to use.
Uh-Oh Energy Sources
Best Avoided For Long-Term Human & Planetary Health
Sometimes natural gas is sourced by a method known as fracking. There is growing evidence that this destabilises the ground, damages local water tables, contaminates drinking water and has other undesirable local geophysical effects. In addition, whilst at the present time fracking may be financially profitable it leaves the children of today a damaged, polluted landscape for their tomorrow.
Surely the rules of global stewardship include that one generation should leave the planet for the next generation in (at a minimum) as good a state (ie: condition) as it was when they received it from their parents?
Many countries source electricity using nuclear power, although what happened because of the melt-down of several of the Fukushima reactors in Japan has alarmed so many previously unaware and disinterested people that there is a growing opposition to more nuclear power stations. If this comment leaves readers somewhat perplexed then this is a result of the British media not reporting the seriousness of the melt-downs, nor that even in 2015 large quantities of toxic radioactive material is still being discharged into the open seas, endangering all life in the entire Pacific Ocean - and those people who eat fish from there.
Nuclear power generation also leaves much radioactive waste material which could be described as an obnoxious, poisonous gift that this generation is bequeathing upon the next generation. It is understood that whilst it is possible to process and reprocess nuclear waste until it is actually safe, and gain much extra electrical energy whilst doing so, there is a rarely-spoken reason why this is not allowed to be done. This could be military and be connected with nuclear weaponry.
Some people advocate Thorium as a safer alternative to uranium, some even suggest that as with what is known as cold-fusion there are powerful people in established very wealthy fossil-fuel industries who stand to lose too much to allow any true alternative (that is not already being used) to be commercialised; it is beyond the scope of this page to say any more on this topic.
Air Quality Laws Constantly Broken
In January 2009 a report in The Guardian newspaper revealed that between 2005 - 2007 the air 'quality' in Britain had been so poor as that it constantly broke British air quality laws - yet alone the EU regulations. Not just in a few larger cities, but in as many as 20 conurbations nationwide. In addition it was revealed that as a result the EU was planning to prosecute the British government for failing to take appropriate actions to reduce urban air pollution.
The response by our beloved politicians to the threat of prosecution was to ask for more time to meet the air quality regulations and propose an expansion in the use of electric cars, as if that would help reduce pollution derived from heavy duty diesel engines - such as used by large lorries and buses. The full newspaper article can be read here http://www.guardian.co.uk/environment/2009/jan/29/pollution-particulate-eu

In February 2010 the House of Commons Environmental Audit Committee was informed that the fatality rate is actually at least 35,000 people a year, and based upon some EU studies possibly even as high as 51,000 people a year.
House of Commons Environmental Audit Committee Accuses Our Government Of Not Caring
When (in 2011) the House of Commons Environmental Audit Committee released a report about air pollution some of its members went as far as to suggest that by its actions [or rather; in-action] the impression gained is that despite the seriousness of urban air pollution situation the government just does not care about air pollution and its effects on human health.
This uncaring indifference gives rise to the question whether [despite being the British Government] our top politicians actually serve someone else; ie: not the British people?!
The web page about this report includes the two quotes below and that in 2008 30,000 deaths in the UK were linked to air pollution - with 4,000 in London alone - and expresses astonishment that business plans produced by the Department for Transport and Defra did not even mention air quality:
http://www.parliament.uk/business/committees/committees-a-z/commons-select/environmental-audit-committee/news/air-quality-a-follow-up-report/

"The Government is putting thousands of lives at risk by trying to water down EU air quality rules instead of prioritising action to cut pollution on UK roads"
"It is a national scandal that thousands of people are still dying from air pollution in the UK in 2011 and the government is taking no responsibility for this.
It is often the poorest people in our cities who live near the busiest roads and breath in diesel fumes, dangerous chemicals and bits of tyre every day.
If you have heart disease, asthma or other respiratory illnesses then living near a congested road like this can literally take years off your life.
This newspaper article explains the situation in much detail and includes these two quotes (in fact there is much more information than can be reported here):
http://www.guardian.co.uk/environment/2013/may/01/government-pollution-supreme-court

"The latest figures suggest 29,000 people die prematurely from it every year in Britain, twice as many as from road traffic, obesity and alcohol combined, and that air pollution is now second only to smoking as a cause of death".
"In 2011, the House of Commons Environmental Audit Committee calculated that living in an air pollution hot spot could shave nine years off the lives of the most vulnerable people. It concluded that it cost Britain £6-19bn a year, or up to 17% of the total NHS budget, and that 15-20% more people died prematurely from it in cities with high levels of pollution than those in relatively cleaner ones.
London Supreme Court Rules That The British Government
Has Breached Its Legal Duty To Reduce Air Pollution
In April 2013 the Supreme Court in London ruled that the UK Government has breached its legal duty to reduce air pollution in British cities, and called for the European Commission to take immediate action to enforce EU law. These links explain more (as with all external links they open in new windows)
http://www.channel4.com/news/pollution-court-judges-uk-break-eu-directive-air-quality


http://www.ft.com/cms/s/0/7ea982de-b244-11e2-a388-00144feabdc0.html#axzz2SGG2ju00


http://www.guardian.co.uk/environment/2013/may/01/government-pollution-supreme-court

This July 2013 link to an article about a World Heath Organisation report which reviewed evidence on health aspects of air pollution will also be of related interest:
http://www.guardian.co.uk/environment/2013/jul/04/europe-tackle-air-pollution-un

In effect this Supreme Court ruling confirms that 60 years after the clean air legislation of the 1950's resulted in the ending of coal sourced smogs the air that we breathe in our towns and cities is yet again so heavily polluted that yet again large numbers of people are suffering ill health and even dying from it.

It could be asked why our predecessors bothered, only to be failed by future generations.
2015: Back To The Supreme Court!
Because the response of the government was deemed to be inadequate in April 2015 the Supreme Court quashed the government's existing plans and ordered it to produce new ones by the end of the year.
So (Once Again) It Is Time To Take Urban Air Pollution Seriously
Except That The Government's Reactions Were Mediocre,
So In 2016 Can Expect To Find Itself Back In A Court Of Law!
---
House Of Commons Environmental Audit Committee Says...
Electric (trolley)buses and trams would help alleviate the problems of air pollution - not just in the street domain but also within the wider global context. The House of Commons environmental audit committee says that carbon emissions from transport are 'still moving in the wrong direction' but apart from clobbering motorists with yet more taxes the politicians have failed to find effective ways to entice people out of their cars and on to buses. (In many areas trains and trams have proven to be more successful, but there are many urban transport services for which only buses will ever prove to offer a financially viable solution).
By attracting car users who would not switch to a modern motor bus electrification of our urban bus routes could help reverse this upward trend. This would also help reduce overall road traffic levels too.
A nationwide programme of bus electrification here in Britain would help us justify to the other members of our planet-wide family of nations of the urgent need for similar policies for improving both the global and their local environments.

It would also "add value" to people's daily lives - something which current British government transport & environmental policies totally fail to do.
---
How Quickly Could The First Services Be Operating?
In summer 2003 the Swedish city of Lanskrona opened a new trolleybus route which had been planned, installed AND opened within just one year of the politicians deciding to install it. Admittedly this was a short route, but it still compares very favourably with the British planning process which encourages paralysis by analysis!
Therefore there is a need for a legal framework which would permit the conversion of existing diesel bus services without needing a public inquiry and Transport and Works Act Orders to authorise every inch of overhead wiring. Trolleybuses do not need roads digging up along the entire length of the service. For trams this is necessary, so the planning and installation stages will take longer.
Big Problem: British Planning System Encourages Paralysis By Analysis
Even before it reached the public inquiry stage the Leeds NGT scheme had become a classic example of both how the British planning system encourages paralysis by analysis AND how the British Government's transport policies suggest that it is actively hostile to issues related to human health and air pollution. NGT really should have been built and opened by April 2015 Instead, it still awaits approval (January 2016).
It is important to understand that the NGT proposals are for something more than a simple trolleybus service. The NGT plan is actually for brand new BRT (Bus Rapid Transport) service that will use trolleybuses rather than diesel buses (ie: TBRT). People who know Leeds will likely have heard of the bus services which for parts of their routes use the kerb guided busways, which effectively are specially-built short sections of bus-only traffic lanes. The NGT system will be similar in theme except that the specially built dedicated traffic lanes will be much more extensive and the bus driver will still steer the vehicle. The trolleybus aspect of NGT represents only 10% of the entire project cost.
However a city the size and importance of Leeds justifies more than just the one electric street transport service. To be effective in reducing air pollution throughout the city of Leeds the electric transports should serve the entire city in an extensive network of tram and trolleybus routes. This would include all bus services which use the high profile kerb guided busways being converted to trolleybus operations.